2022 Growing Change grants (between $18,000 - $93,000) were awarded to these groups to support their organizing:
Ancestral Hands Midwives - Birthing While Black

Ancestral Hands Midwives is a Black midwife-led organization focused on improving Black maternal health. Our mission is to advance Black maternal health care, reduce racial disparities in maternal outcomes and improve the experience of care for Black people during the perinatal period. We focus on access, empowerment, and education to address the maternal health disparities caused by systemic racism.
Call Auntie Clinic

Call Auntie Clinic started out as the Call Auntie COVID-19 Indigenous Pathways Hotline in the beginning of the pandemic in April 2020. Our team of Aunties got together and created connection for the Indigenous community in Tkarōn:to to support each other through the pandemic. We soon learned that there was a need for more than just a hotline and that safely visiting and sitting with one another is critical to staying healthy!
Gidimt'en Checkpoint
Gidimt'en is one of five clans of the Wet'suwet'en Nation. The 1997 Supreme Court of Canada ruling in the Delgamuukw/Gisdaywa court case affirmed that Wet'suwet'en title, based on the traditional clan governance system, has never been extinguished. Wet'suwet'enHouse Chiefs have continuous and full jurisdiction over Wet'suwet'en territory since time immemorial and developers must obtain free, prior, and informed consent to do work on Wet'suwet'en lands.
Grassy Narrows Asubpeeschoseewagong Anishinabek Two Suns Prayer Sundance

Asubpeeschoseewagong Two Suns Prayer Sundance Lodge came together to organize the first four-year cycle of Sundance ceremonies in Grassy Narrows Asubpeeschoseewagong in over 100 years with the goal of having the ceremony permanently gifted back to the community to support ongoing cultural resurgence and healing for Grassy Narrows Asubpeeschoseewagong members and Indigenous peoples from across Ontario, Manitoba and further across Turtle Island. The first ceremony was held in August 2021 and the second one will be in August 2022.
Hamilton Encampment Support Network
The Hamilton Encampment Support Network (HESN) is a volunteer-run advocacy network supporting the growing community of houseless and unhoused Hamiltonians. HESN is guided by the principle that housing is a human right. All Hamiltonians deserve free, safe, and equitable housing. HESN advocates and supports houseless and unhoused Hamitlonians using a consent-based model and the principles of de-escalation, harm reduction, and non-interference in (i) on-the-ground outreach and supply drop offs, (ii) public advocacy and campaigns oriented towards free housing, and (iii) encampment defense, as requested. Apart from these guiding principles, HESN operates within a solidarity and equity-based framework, guided by disability justice, anti-racism, anti-capitalism, and decriminalization principles in all of its work.
Keekagin - Algonquins of Barriere Lake
The Algonquins of Barriere Lake, or Mitchikanibikok Inik, are a small Anishinaabe community located on a 59 acre reserve on our traditional territory three hours north of Ottawa in what is now known as the Outaouais region of Quebec, though our traditional territory extends for seventeen thousand square kilometres.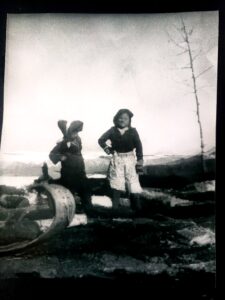 Pelly Banks Nahannie Dena Government
We are the Nahannie Dena. The forgotten people of the Yukon. Our story is one of the most beautiful and tragic stories of modern times. 73 years ago, 1949 is when the planes came and herded our children up and stole them. Indian affairs bean counters calculated that it was cheaper to destroy us than to embrace us. As a direct result of this, our people were dispersed, removed, exiled from our lands, our traditions, and our homes. 73 years we have remained in exile, forgotten like all the dead children buried at Indian Residential School sites across our north American continent. From then until now we have scratched out our living and lives, mourning our losses, grieving for all that was stripped from us by ways of our identities, language, and culture, and in conjunction not knowing where some of our children are buried or sent.
Sovereign Likhts'amisyu
Land has always been fundamental to the health and culture of our people. We recognize the interconnection of all life which co-exists in a balance of harmony through respect and care. The mission of the Sovereign Likhts'amisyu Village is to slow the acceleration of climate change and to restore and protect the biodiversity of our region. We strive to continue to educate and alert people about the harmful effects of oil and gas extraction on our futures.
Toronto Black Farmers and Growers Collective
The Toronto Black Farmers and Growers Collective (TBFGC) is a group of people who came together out of food inequality and oppression, deciding to make changes in their food experiences through access and collectively as a group of Afro-people. The members are farmers, growers, small food business owners, and food insecure people, standing against food injustices, food insecurity, food poverty, and for food sovereignty. They come from diverse food cultures in the Tropical, Equatorial, and Seasonal regions of the world, with them rich food traditions, history, knowledge, applications, cultural anecdotes, with diversity of food products.